Water Sports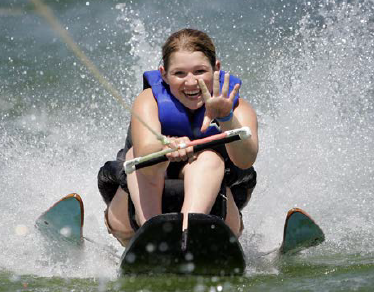 Ability KC - A Day at the Lake - July 14, 2017
This annual adaptive water sports clinic is for individuals 16 and older living with spinal cord injuries, amputations or blindness. A host of community volunteers and trained professionals help participants learn to water-ski using adaptive equipment. Rides on personal watercraft, such as Jet Skis, and boats are also available.
Advance registration for participants and volunteers required.
Lunch is provided. No children or pets please.
You must be 16 years or older to participate You need to be one year post injury to water ski.
Advanced registration is required. REGISTRATION DEADLINE JULY 1, 2017.
Event t-shirts will be given to individuals who pre-register.
Interested in becoming a Day at the Lake Volunteer?
A Day at the Lake is made possible through the support of a number of volunteers who are experienced in water sports activities and/or provide boats and/or personal watercraft for use at the event. In order to be a water sports volunteer, individuals must attend a volunteer training session that is usually held two weeks prior to the event. We are currently looking for volunteer who have personal watercraft that they can bring and operate at the event.
If you are interested in volunteering at A Day at the Lake as a water sports volunteer or watercraft provider please contact: Jeanette Boucher @ 816.751.7710 or Jeanette.Boucher@rehabkc.org.
Exhibitor and Sponsorship Opportunities available.