Water Sports
Midwest Aquatics Adaptive Scuba Classes
Midwest Aquatics offers an adaptive diver program for individuals with physical needs. Though this program individuals with physical disabilities can become certified divers. According to Darin Duffin from the aquatics center, "the adaptive program was designed for people that could not meet the physical requirements of the standard certification course. (Being) underwater where we are weightless, can be an energizing experience." Scuba classes are offered on the 1st and 2nd weekends of each month. Classes include all populations and are not specific for those with disabilities.
Contact Darin to discuss available times for instructor led classes.
Phone: (913) 402-0403
Email: info@midwestaquatics.com
Address: 7565 W. 160th Street, Overland Park, KS 66085
---
Day at the Lake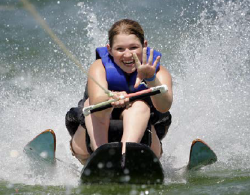 A Day at the Lake - July 14, 2017
Smithville Lake - Crows Creek Park, 5612 Crow Creek Rd, Smithville, MO 64089
This annual adaptive water sports clinic is for individuals 16 and older living with spinal cord injuries, amputations or blindness. A host of community volunteers and trained professionals help participants learn to water-ski using adaptive equipment. Rides on personal watercraft, such as Jet Skis, and boats are also available.
CLICK HERE for details and LINK to register!
---
Water Sports Event Calendar - by month