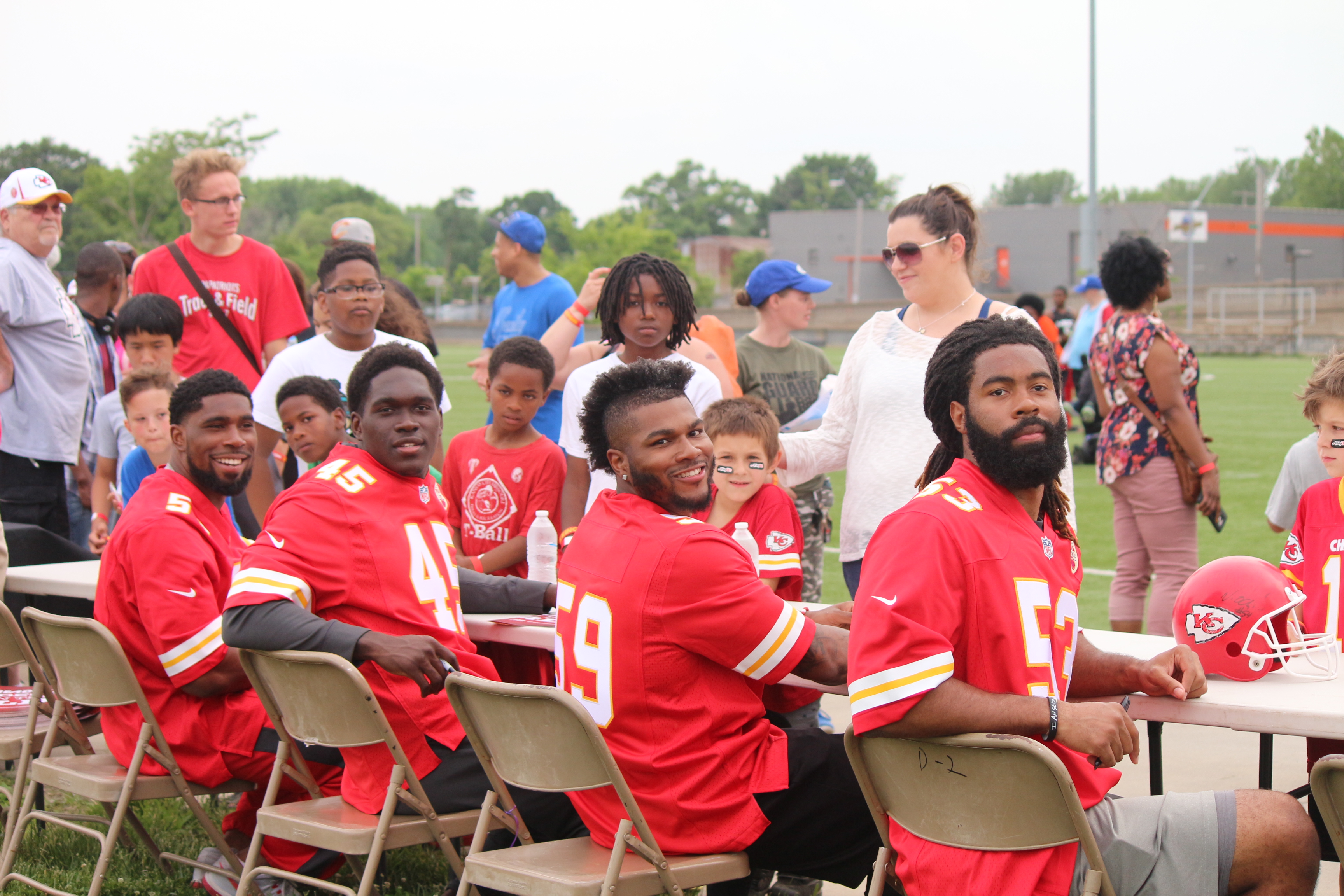 KC Chiefs Play 60 Football Ability Day

The Recreation Council of Greater Kansas City (RCGKC) would like to express our thanks to The Kansas City Chiefs organization for the Play 60 Football Ability Camp they organized with us at the 9th & Van Brunt Athletic Fields on May 18, 2017. We had over 400 participants, guardians, volunteers and vendors sign up for the Camp this year!
RCGKC would like to especially thank the following: Krishna Lee and Kansas City, MO Parks and Recreation; Chiefs Community Outreach department, Chuck Castellano, Alex Martin, Andrew Smitka, Shelby Goff, Chiefs Play60 crew, KC Wolf and the Kansas City Red Coaters; Gilbert and Raquel Rizo and all the volunteers who assisted with concessions and drills; Tom Sanders, Midwest Adaptive Sports ; The Whole Person; Larry Eichner, Recreation Council of Greater Kansas City Board Members; and our vendors. We were grateful that the rain held off so that we can share the joy of this ability camp with the youth and adults in our community. We look forward to our continued partnership with the Chiefs and adaptive sports organizations in the Greater Kansas City area. Thanks to ALL for coming out!
Each year we partner with Kansas City Chiefs players and cheerleaders as they showcase their skills while helping others live out their dreams of big-time football with the pros at the Play 60 Football Ability Clinic.
This event is an ability camp promoting good health and fitness using their Play 60 format. In 2016, Chiefs quarterbacks Alex Smith, Chase Daniel and Aaron Murray joined this camp with more than 300 participants. Along with the Chiefs players, KC Wolf, Chiefs Cheerleaders, the Redcoats and many other volunteers, participants rotated through stations and learned key football skills. The evening wrapped up with a meet-and-greet session.
Play 60 stations will be set up to introduce football skills for people of all ages and all ability levels particularly persons with disabilities, including but not limited to Developmental Disabilities, Physical Disabilities/Injuries & Cognitive Disabilities. Participants from across the Metro rotate through stations tossing, kicking and passing the football to learn new skills and enjoy the company of friends and family with the National Football League's most elite players. End the evening with a meet-and-greet session for participants! Resource fair, food, and fun.
Photos by Larry Eichner.  More photos coming soon from this year's event!